Here are the past events that Iniquity has thrown or sponsored:
The INIQUITY Fetish Party Returns!!!
******************************************
FRIDAY, MAY 23rd, 2003
******************************************
9pm-2am
Welcome to the "Preview Party" for the DomDominion Fetish Week!
THREE GREAT NAMES -- INIQUITY, WICKED CITY, and DOMDOMINION --
team up in May to bring you a ONE NIGHT ONLY EVENT to preview the WEEK-LONG series of events in San Francisco brought to you by DomDominion.com!!!
Held at the DIAMOND HALL on 2246 Jerrold Ave (at Barneveld), San Francisco,
this evening will bring together the Fetish Fashion, S&M, and Music of INIQUITY, the Fetish-Goth crowd of Wicked City, and all the early arrivals and eager partiers coming to San Francisco for the DomDominion Fetish Week.
The INIQUITY name as usual means you can expect the INIQUITY STANDARDS in Place!
The Dress Code for the evening will be the INIQUITY DRESS CODE,
the ENTIRE LINE UP of Your Favorite INIQUITY DJs -- including Ron E, Fernando & Tristan -- will be spinning your favorite Industrial / Trance / Electrotica sounds,
and an extra-large S&M Play Area will be open upstairs for all to explore your dark, deviant fantasies!
This One Night Event will also include:
-- a photo exhibit by the up and coming Bay Area Fetish Photographer
MICHAEL BLUE
.
-- WICKED BITCH BRAZIR & STORMY LEATHER will host a Midnight Fashion Show.
-- GIVE-AWAYS. Seven People will be picked from the crowd to receive
FREE DVDs
of the infamous Fetish Film
"PREACHING TO THE PERVERTED"
or
FREE
CDs
of the
"....PERVERTED" Soundtrack
(An
AMAZING
Soundtrack at that!)
The DVDs and CDs will be given to the Seven People who the judges feel BEST REPRESENT the INIQUITY Aesthetic by way of WHAT YOU WEAR! That's right! On this night, the INIQUITY DRESS CODE gets you through the door AND Decides The Winners!
One BIG Hint: If you want to WIN, GET COLOR INTO IT! Colors will increase your chances of winning! We all love our shiny black, but on this night COLORS RULE, so Spice It Up!!!
Admission to the general public adhering to the INIQUITY Dress Code will be $15 at the door,
but YOU will show up and use the INIQUITY PASSWORD (which cleverly is "INIQUITY") and all you INIQUITY Readers will get in for only $10 At The Door!
No Advanced Purchase Necessary -- Just Dress Right and Remember that Password!
This one-time event will run from 9pm to 2am.
18 and over.

Mark May 23rd on your calendars now!
The INIQUITY Dress Code (in effect on this night)...
_______________________________________
New! Pictures from You Do Voodoo Fetish Ball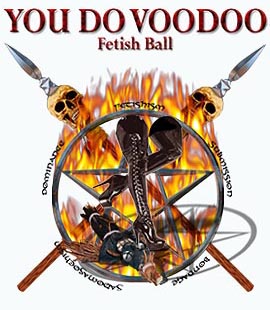 You Have Waited...
You Have Wanted...
Now you shall HAVE!



is back.

Saturday & Sunday
January 12th-13th, 2002



DomDominion.com
in conjunction with
INIQUITY
present the:
YOU DO VOODOO
Fetish Ball




click here for a Full Voodoo Weekend Schedule of Events
click here for Saturday, January 12th Pre-Party LOCATION and Details

MAIN EVENT
Sunday, January 13th, 2002
at Club 550 Barneveld
(click for a map and driving directions to this event)

This one is going to be Over-The-Top!


• Exquisite Pro-Domina Calendar Girl Fashion Show
• MC Comedian~Magician Paul Nathan
• Special Performances of All Kinds!
• 2 Fully Furnished Dungeons
Provided by Liz's Locker,
Power Exchange, and Mr. S
• Fetish and Erotic Art Exhibit/Sale
• Costume Contest with a $500 First Prize!!!
Live Performance by the Fetish Rock legends:
SPANKING MACHINE
• 6 of the Best DJ's Around!
Ron E. (from INIQUITY)
Lord Spanky (from Spanking Machine)
Fernando (from Shrine of Lilith and Assimilate)
DJ Geek (Hush Hush)
DJ Tristan (Bound)
DJ Pure
spinning a steaming-hot mix of
Trance/House/Industro-Rave/Electrotica!
• and Much More!!!!!

General Admission to the Main Event:
9pm-3am, 21 +
$25 in advance; $35 at the door
CHECK BACK HERE OFTEN AS THE LINE UP OF PERFORMERS
AND SPECIAL ATTRACTIONS FOR THE ENTIRE WEEKEND GROWS!!!

ADVANCE TICKETS:
www.420tickets.com

TICKET OUTLETS
In San Francisco:
Dark Garden Corsetry
Stormy Leather
Mr S
Leather Etc.
In Los Angeles:
Retail Slut

VOODOO FETISH BALL info line:
1-866-836-8636

PLUS Saturday January 12th, 2002:
The YOU DO VOODOO
Strict Fetish Dress Code
VIP Cocktail Pre-Party!!!
(at a Secret Location to be disclosed...)

Catered, All-inclusive.
Live DJ; 9pm to Midnight....or later!
Your VIP Ticket ($50 advance; $70 at the door) INCLUDES:
• VIP Catered, Cocktail PRE-PARTY on Jan. 12th
• Admission to the MAIN EVENT on Jan. 13th
• VIP Dungeon Access at the Main Event
• A Special VIP Gift
• FREE Raffle Ticket for the drawing of a trip for two to
KINK IN THE CARIBBEAN 2002 at Hedonism III in Jamaica!





(Raffle Ticket must be picked up at Main Event;
additional raffle tickets available for sale to general public at that time.
Proceeds go 100% to disaster relief for NYC Fetish Community victims of 9/11.)
• Special VIP Discount at San Francisco's Finest Fetish
Boutiques where showing your Pre-Paid VIP Ticket will
get you 10% off ALL purchases ALL Weekend Long
both Saturday and Sunday, Jan. 12th and 13th!
Participating Stores:
• Mr. S
• Madam S.
• Stormy Leather
• Leather Etc.
• Dark Garden Corsetry

Strict Fetish Dress Code
The INIQUITY Dress Code will ALWAYS get you through the door.
At THIS EVENT, the following ADDITIONAL kinds of attire will be permitted:
• Outrageous and Seriously Over The Top Costumes
(Voodoo Theme Preferred)
• CLASSY Masquerade Ball Attire
• ELEGANT Period / High-Formal Attire WITH MASK
q.v. the INIQUITY Dress Code for more details and ideas, as well as what will NOT be permitted.
We reserve the right to refuse admission to anyone inappropriately attired
ask around -- we mean it!)

Take advantage of the entire VOODOO weekend
with some BDSM workshops:
Jan 12th Basic Bondage
by The Two Knotty Boys 2pm-4pm at Stormy Leather
$15 per person/Only $5 for VOODOO VIP Ticket holders
(must show VIP Ticket or receipt)www.knottyboys.com

Jan 12th Advanced Bondage Demo and Workshop
by Fetish Diva Midori
Demo 1pm-3pm, Workshop 3:30-5:30 at QSM
Demo $15, Workshop $20;
VOODOO VIP Ticket or receipt entitles a
$5 discount off each www.qualitysm.com/classes..shtml

Jan 13th D/s Relationships
by Pat Califia 2:30-4:30 at Mr. S
$25, VOODOO VIP Ticket holders receive a Free Gift;
ALL students receive a $10 Mr. S coupon.
Info: sportsex@dnai.com

Schedule of Events for the entire YOU DO VOODOO
Fetish Ball Weekend
January 12th and 13th, 2002 in San Francisco:
Saturday
Jan 12th -- ALL DAY
10% Discount on ALL PURCHASES at Dark Garden,
Stormy Leather, Mr & Madame S, Leather Etc.
with your pre-paid VIP Ticket or receipt.

Jan 12th Basic Bondage
by The Two Knotty Boys 2pm-4pm at Stormy Leather
$15 per person/Only $5 for VOODOO VIP Ticket holders
(must show VIP Ticket or receipt)www.knottyboys.com

Jan 12th Advanced Bondage Demo and Workshop
by Fetish Diva Midori
Demo 1pm-3pm, Workshop 3:30-5:30 at QSM
Demo $15, Workshop $20;
VOODOO VIP Ticket or receipt entitles a
$5 discount off each www.qualitysm.com/classes..shtml

Jan 12th ••••VOODOO FETISH BALL VIP PRE-PARTY••••
9pm-Midnight....or later....
READ BELOW to find out where the Secret Location
for this SpectacularAll-Inclusive, Catered event will be held....

Sunday
Jan 13th -- ALL DAY
10% Discount on ALL PURCHASES at Dark Garden,
Stormy Leather, Mr & Madame S, Leather Etc.
with your pre-paid VIP Ticket, VIP wristband
(from the Pre-Party) or receipt.

Jan 13th -- D/s Relationships by Pat Califia
2:30-4:30 at Mr. S -- $25
VOODOO VIP Ticket holders receive a Free Gift
ALL students receive a $10 Mr. S coupon.
Info: sportsex@dnai.com

Jan 13th •••• THE YOU DO VOODOO FETISH BALL!!!••••
9pm - 3am, 550 Barneveld in San Francisco.
Check the DomDominion and INIQUITY websites for Full Details!!!

The YOU DO VOODOO VIP Pre-Party
on Saturday, January 12th
will be held at the
Erotic Hologram Gallery "Laser Reflections"
located at 589 Howard Street, 2nd Floor, in San Francisco.
Laser Reflections is the world's leading holographic imaging studio specializing in high-resolution, 3-dimensional portraits. Their work includes an incredible set of stunning Playmate portraits. The Laser Reflections gallery will also be offering a special deal to all VIP attendees the night of January 12th. Ordinarily a full-size holographic portrait of two people runs $4000, and a solo portrait runs $2500. VIP Attendees who make an appointment that night to immortalize themselves or their friends in an exquisite and high quality hologram will receive a whopping 40% DISCOUNT!! That means a two person portrait would be $2400, and a solo portrait would be $1500. This offer is good for appointments made on the night of January 12th ONLY. Appointments made on that night can be scheduled for whenever it is convenient to have the sitting (each portrait takes several hours to produce). www.laserreflections.com

Studio: 415-896-5958


++++++++++
Hotline: 415-289-2167
_______________________________________